FAQs
My builder says we don't need an architect and we can save money using a draftsman. Why should we employ an Architect?
An RIBA Chartered Architect will provide you with much more than just the drawings for your new home or alteration. Through the services of an Architect, you will be fully involved in creating a totally tailored solution for your living needs. An architect has the experience to see your project safely through to completion, overseeing the design through the planning and building regulations process and ultimately acting as liaison with the contractor. You can hire an architect to manage any or all parts of the design and construction process. It is true that the design and building process actually varies from project to project so to make things simple to understand, we've gathered below some of the most common questions we've received from our clients. If there is a question you have that is not listed, please feel free to get in touch, we will be glad to listen.
To speak with us about our design services, email us at: enquiries@fifearchitects.comor call 01333 313578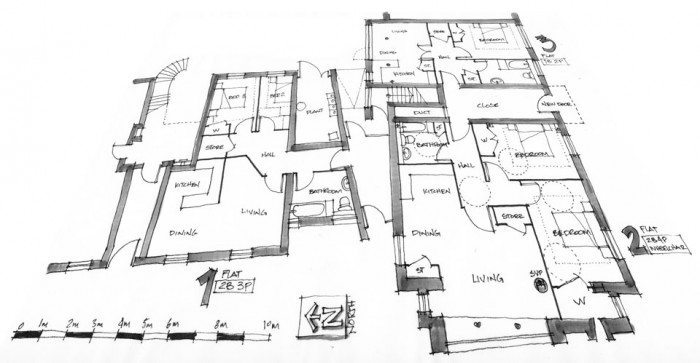 Below is a list of our most frequently asked questions:
How much will employing an Architect cost?
Like any other business delivering a tailor-made service, architects fees vary depending on the size and complexity of the project and the services required by the Client. Our fees are usually charged either as a flat rate when we have a good idea of the amount of work involved or as a percentage of the estimated overall project value for larger projects or more complex work to existing buildings. We will occasionally charge an hourly rate for very small jobs or for ad-hoc work.
Remember, architects fees are small in comparison to the overall cost of a building project. When you reflect the cost of employing an architect and the value they can bring to a project you will find that their fees by far outweigh the 'so-called' benefits of undertaking a project without the guidance of a professional architect.
For most clients their home is their biggest single investment. When you appoint a Chartered Architect you can be confident that you are employing an experienced professional who has undertaken a minimum of 7 years rigorous architectural training. A self styled "building consultant" "architectural consultant" "architectural designer" are unlikely to be an architect and do not have comparable design skill or spatial and style knowledge. An architect must maintain professional indemnity insurance for your protection, will follow a strict code of professional conduct and is obliged to maintain his/her knowledge through continuous professional development.
Click here for independent advice on employing an Architect and Architects Fees
Can a small practice deal with my project?
It is normal for one architect to be involved in numerous projects at any one time, whether they are a sole trader or working within a larger office.
Running a small practice allows Fife Architects to keep a firm grip on the creative process and to respond quickly to client demand – we are pleased to offer our full attention and services on a one to one basis. Think of us as your personal architects!
What is the difference between the role of a Project Manager and that of an Architect?
A project manager is someone who can oversee and coordinate a project at various stages but mainly in an administrative role, so they never really design anything. They normally coordinate meetings between subcontractors and consultants, organize orders and deliveries and ensures the the various different stages run smoothly while keeping the clients informed of anything that is happening with their project, but again they never are involved with drawings or design.
Architects on the other hand conceptualise your designs and are able to produce the documents and drawings necessary to physically build your idea. Essentially, the Architect is involved from inception to completion and know every material and building detail required for the build which is why it's common practice for Architects to also be Project managers but rarely the other way around. This is even more relevant in small residential projects as it is most practical to keep the administrative duties hand-in-hand with the designer.
Are there any other costs related to my project that I should be aware of?
If you are planning on carrying out work to an existing property and don't have any existing drawings of your home or property, you will most likely require a measured drawing survey. If you are altering the structure of your home or property, you will require input from a Structural Engineer who also provides SER (Structural Engineers Registration Ltd) certification at Building Warrant stage required by the Council. Depending on the size of your project and what your requirements are, you may wish to appoint a Quantity Surveyor who's job is to make accurate cost reports to you throughout the duration of your project in order to provide Cost Certainty.
Here are some of the most common additional budget costs to consider:
Council Fee for Planning Application
Council Fee for Building Warrant
Building Estimator/QS (optional but highly recommended)
Structural Engineer (Compulsory)
Ordinance Survey (OS) site drawing (Optional but recommended) approx. £20-£50
Land investigation / Services survey to determine existing services for new connections etc (not always required).
Trial pits to determine depth of new foundations and existing soil conditions (not always required).
As part of our services, we can put you in touch with recommended professionals in the fields mentioned above.
How long will my project take?
This depends on the size and complexity of your project. The bulk of the architects work is actually before the building begins! This is because it takes time to develop a good design and thoroughly test the design before you commit. It also depends on how quickly Local Authorities grant permission on your application.
Remember to plan well ahead for a project. Permissions can sometimes take months to process, and remember that in Scotland, the construction period always depends on the weather!
Why do I need Planning Permission and Building Warrant?
Planning permission is required for building work so that the local Council can keep control over development in the area. Building Warrant is required in order to administer the Building Standards – a strict set of standards covering Structure, Fire, Environment, Safety, Noise, Energy and Sustainability.
Planning approval is valid for five years and approved Building Warrant drawings are valid for three years – both of these can be extended. It is recommended that all approvals are obtained prior to work commencing at your property. A completion certificate will be required from your local authority when your building work is completed.
You will find more detailed information on the above on your local Council's website. // FIFE COUNCIL // PERTH & KINROSS COUNCIL // ANGUS COUNCIL
When is Listed Building Consent required and why do I need it?
If you live in a Listed Building and are carrying out alterations, or are developing a listed building, you are required to apply for Listed Building Consent at the same time as planning. Listed Building Consent is required so that the local Council may retain some control over how Listed Building's are developed. Similarly if you building is not listed but is situated within a conservation area you will need to apply of conservation area consent.
You will find more detailed information on the above on your local Council's website. // FIFE COUNCIL // PERTH & KINROSS COUNCIL // ANGUS COUNCIL
How much do Councils charge for Planning/Building Warrant applications?
Planning and Building Warrant Fees can sometimes differ from Council to Council but generally are tied to a published 'scale of fees' in proportion to the overall construction cost and/or area of the development. So in general, the less you plan to spend on a project the cheaper the planning or building warrant fee will be. As part of our Service we can provide indicative fees and consult the Council if necessary if you need a firm application fee quote for your future project.
You will find more detailed information on the above on your local Council's website. // FIFE COUNCIL // PERTH & KINROSS COUNCIL // ANGUS COUNCIL