A new rating programme that promotes sustainable renovations will be launched this summer by BRE.
The BREEAM Refurbishment scheme will go live for registrations on 2 July 2012 and will focus on narrowing the huge gap between new buildings which are getting greener and the huge amounts of existing housing stock which are obviously not getting any greener. Addressing existing housing stocks and improving their performance is key to achieving the optimistic CO2 reduction goals set by the Government. The climate change act (2008) commits the UK to a 34% reduction on 1990 levels by 2020 and an 80% reduction by 2050.
Considering that 78% of the existing housing stock will still be around by 2050, it is crucial that all existing homes are upgraded if we are ever going to tackle the issue of sustainability head on. The image below shows the extent of the problem. It shows that even if we were to only build exemplary 'green' buildings from now until 2050, we would still have 78% of today's buildings wasting energy and valuable resources.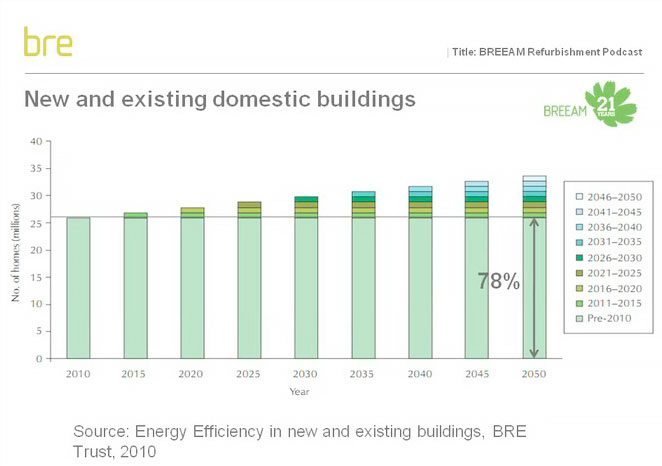 The new programme will help housing owners, managers and occupiers to carry out higher quality and more sustainable refurbishments, and ensure that refurbishment meets best environmental practice by saving carbon, water and waste, being adaptable to climate change and providing a healthy indoor environment. An accompanying assessment manual will be published on the BREEAM website on 11 June.
BREEAM Domestic Refurbishment can be used on a range of projects and is a major step towards addressing the sustainability gap between existing and new buildings, the new assessment can be used for:
making various alterations to a home – for example replacing windows or fitting new insulation
conversions and change of use projects, such as converting a large dwelling into smaller ones, or an old hospital into housing
refurbishment and regeneration schemes covering large numbers of homes.
The scheme will measure each project's impact on sustainability, and help ensure that it employs the most effective methods and technologies. It will guide refurbishment designs by identifying the sustainability issues that should be taken into account in the areas of energy, water, waste, materials, management, pollution and innovation.
Key issues it promotes:
Moving towards an 80% reduction in CO2
Impacts on overheating and health
Flood resilience
Embodied impacts of materials
Recycling of refurbishment waste
Water Efficiency
Health, security and Fire
Good Project management and design
The use of BREEAM Domestic Refurbishment will help developers, designers and – in future – green deal advisors to demonstrate their environmental credentials. Certification to the scheme will provide a market-focused label for residential buildings that have had more sustainable and higher quality refurbishments.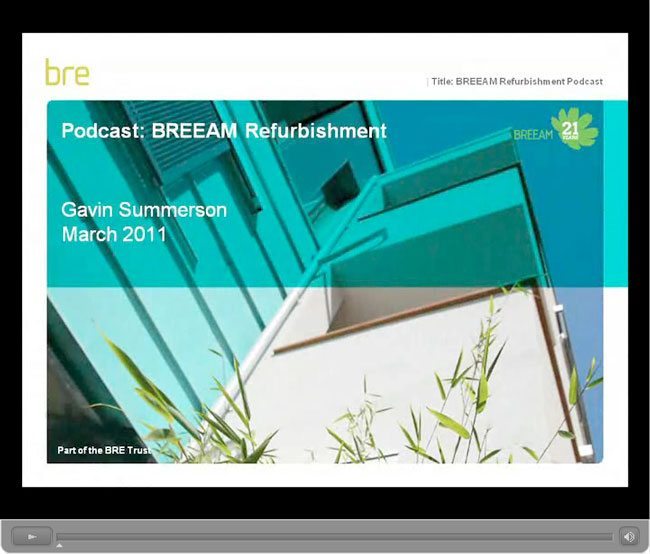 Click here to view an introductory video on this new BREEAM scheme and green refurbishment in general.
Via [ Building4change ]